The medium may be different, but the power of both art and literature lies in the stories they contain.

Join us in digging a little deeper for the stories behind selected artworks from Southeast Asia in the National Collection, in this exciting collab with Kolektif! Take part in our giveaways to win books and other prizes, inspired by the art and specially curated by us, and learn more about the artworks here.

You know what they say: a picture paints a thousand words.
How evolved are we, really? Sometimes, it doesn't take more than a glance at an online comments section or today's news headlines to see that in many ways, we're still very much beasts at heart—and ironically, it is our ravenous appetite for more that destroys the homes and lives of actual animals, that contort us into creatures. We take a look at some art and literature that blur the lines between men and beast. Sadar Wisata Makan Beling was another piece that, in our eyes, blurred the lines between man and beast, as men contort themselves into creatures and behave like animals.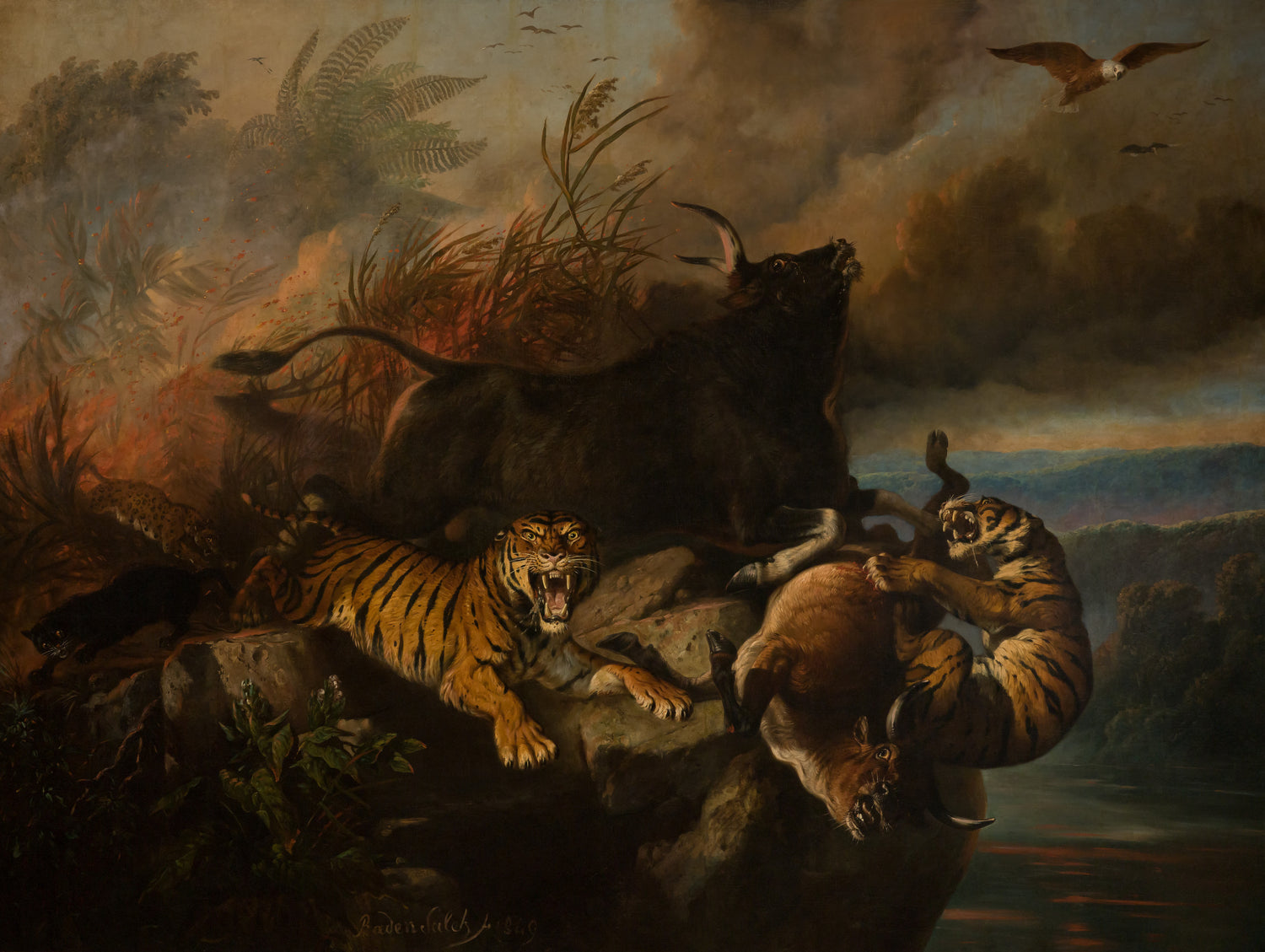 Raden Saleh
Boschbrand (Forest Fire)
1849
Oil on canvas, 300 x 396 cm
Collection of National Gallery Singapore
This work has been adopted by Yong Hon Kong Foundation
Raden Saleh's largest painting, Forest Fire, is a dramatic representation of wild animals chased by flames to the edge of a precipice. The monumental scale of the work and the dense, elaborate composition are testament to his ambitions as a painter. Although the setting is Javanese, Raden Saleh had already been in Europe for 20 years by the time he painted this work, where he had earned significant critical success and elite patronage. Forest Fire was presented as a gift to his patron King Willem III of the Netherlands in 1850, one year before Raden Saleh was awarded the title of "King's Painter."
Djoko Pekik
Sadar Wisata Makan Beling
1989
Oil on canvas, 147.2 x 147.2 cm
Collection of National Gallery Singapore
Born in 1938 in Grobogan, Purwodadi, central Java, Djoko Pekik is an art student at the Akademie Seni Rupa Indonesia in Yogyakarta. Pekik's paintings are seen by some as reminiscent of social realism in the Yogyakarta art scene before it became taboo after the failed communist coup of October 1965.
Here, Pekik depicts a kuda kepang (literally, bamboo horse) a traditional street performance. With a sense of pathos, the bitterness of the performers' lives is perhaps most poignantly represented in the person of the entranced performer in the foreground. Like an animal oil fours, he feeds on a fragment of glass, all act of self-violence that is both attention-grabbing and abhorrent while the singer nurses her baby - a reminder of the person behind the performer, although perhaps significantly, the expression painted on her mask is one of melancholy and hopelessness.
The prizes
In The Wall, a nuclear crisis has hit Earth and a sole survivor lives in isolation, literally separated from the destroyed world by a transparent wall. Her only companions are a dog, a cow and a cat — till a second human being shows up, his actions calling into question: who are the real animals here? Meanwhile, Lesser Known Monsters of the 21st Century is a sci-fi/fantasy collection that digs deep beneath layers of normalcy and humanity to reveal the animalistic forces that drive us.
Join Giveaway
About Kolektif
Driven by the desire to bring authentic youth leadership into the museum space, Kolektif is an experimental youth programme for 17 to 25 year-olds that empowers young people to bring their creativity and concerns to the art museum.
Visit Website